A MELTING POT OF QUALITY LIVING: Union Elementary School Districts from the Surmount area with Alta Vista elementary to Camden Ave
Union has a wonderful cross section of homes. The area boundaries are  between Camden and the foothills ,  Leigh and Union Ave in the Union/Campbell School Districts. This desirable neighborhood has a melting pot of cultures and homeowners who enjoy quality living in a good neighborhood. Schools are top rated Alta Vista and Carlton elementary schools.
Union School District is proud of its high academic performance and its commitment to providing a well rounded and supportive educational experience for its students. These homes are in the highest performing district in San Jose: this years API are 941 and 948.  Children receive a well rounded education at Carlton where talented teachers and dedicated staff are committed to meeting each student's unique learning needs, and the parents participate greatly in the learning process.
Prices have increased a lot in the last few years and remodeled turn key homes on tree lined streets are at a premium. Todays buyers do not have the time to remodel and fix up their purchases with taking care of children and busy living. Areas to watch for bargains are in the Leitz Elementary school area east of Camden and south of 85.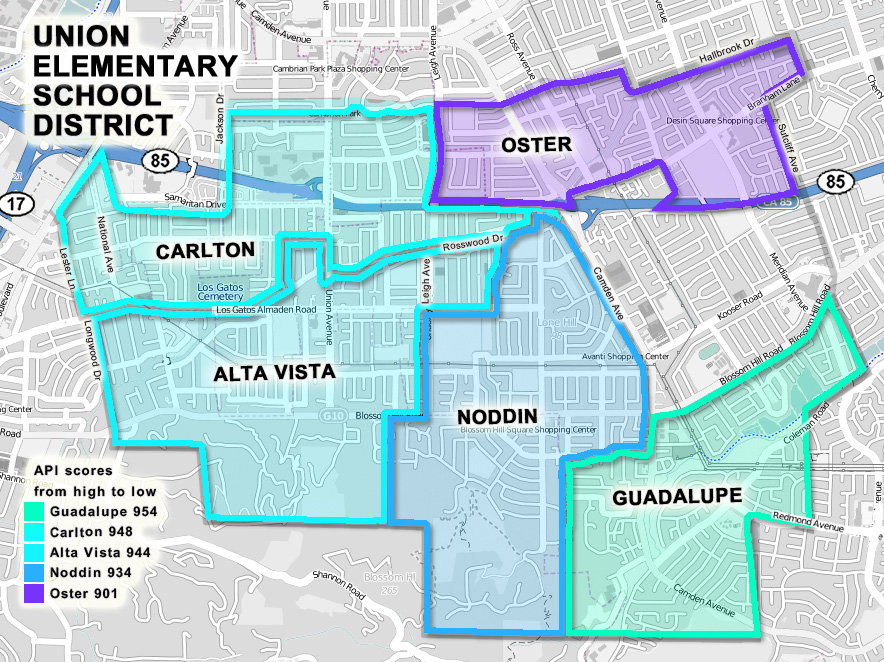 There is almost no inventory which means we are looking at a sellers market before the upcoming downturn expected in house sales as unemployment stays high and cost of living remains high.
To future sellers we highly recommend a review of the home and making the home sparkle before market, a process we are willing to assist with.
Call Sandy Kay today for a financial analysis or evaluation of your home or just chat with us about the upcoming housing market for 2016.
Union is one of the hottest areas in the area for comfortable living, amenities and high value for dollar. Highway 85 is the main access route to the work centers in Silicon Valley. Watch Leigh high school improve as the demand for family  housing in this area increases.
Check school by street LOCATOR